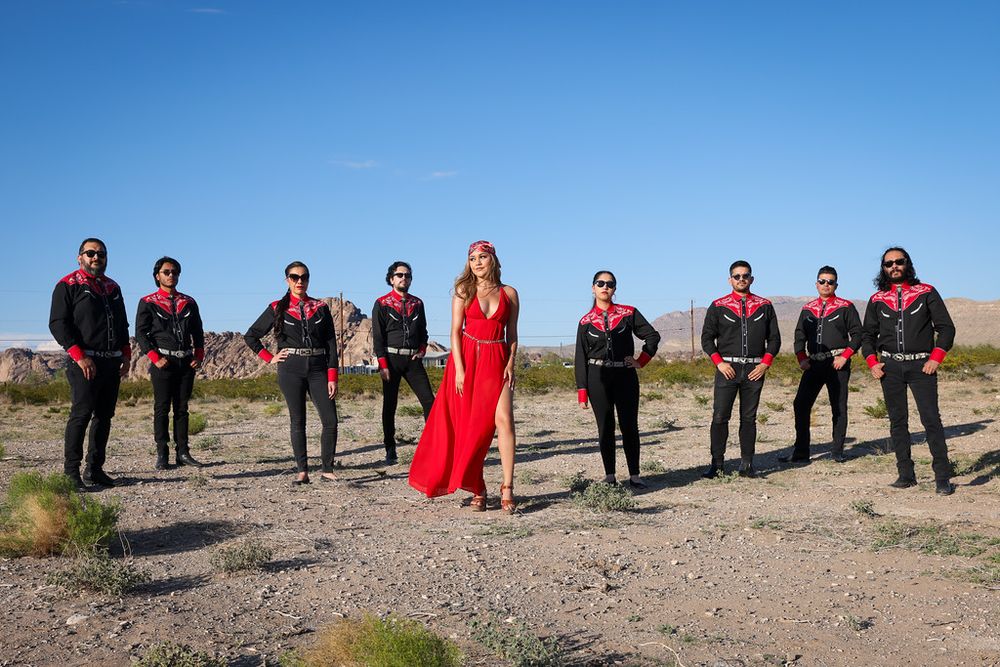 Biography
by Thom Jurek
Tribes is a rock & roll mariachi band from El Paso, Texas, founded by multi-instrumentalist Mike Hernandez (the Royalty, Mariachi El Bronx). This 9-piece ensemble uses traditional mariachi instrumentation driven by a full drum kit. While their songwriting draws deeply from the historic Mexican folk tradition, their energy, volume, and power come out of the indie rock scene, and the group are influenced by some of its larger ensembles including Arcade Fire and Broken Social Scene. Their bilingual debut single, 2018's "Night Future," showcased a fusion of mariachi harmony, storytelling, and instrumentation alongside swinging drums and rock & roll dynamics. 
Tribes was a side project for founder Mike Hernandez that began in mid-2009 with a loose-knit group of musicians. He placed the project on the back burner after joining the indie rock band Tugboat (2010 and 2012). Following that, Hernandez joined the Royalty, who recorded for Victory Records. During this period, he also held bass and guitarrón duties with Los Angeles group Mariachi El Bronx as a substitute. In 2013, he returned to the idea of his own mariachi project. While slowly establishing his own band, Hernandez made a living by touring with groups such as Tolidos, Nick Hirsch, and Mariachi El Bronx. In late 2016, he decided to leave the road in order to focus on his own music exclusively. 
In 2017 he met vocalist and former La Voz Kids contestant Gisselle Lopez. She began rehearsing with Hernandez, singing both traditional and original songs. Both set about finding other musicians with the same passions. The final lineup included Lopez on lead vocals; Hernandez on guitarrón; Nate Sansom on the vihuela; guitarist Joe Madrid; violinists Cindy Cabada, Vanessa Cedillos, and Eddie Garcia; trumpeters David Nava, Frank Juarez, and Matt Sanchez; and Steve Oropeza on drums. Surprisingly, each of the bandmembers had previously studied, performed, or taught traditional mariachi in the El Paso-Las Cruces area. By adding electric amplification to acoustic instruments, a powerful female vocalist up front, and a drummer, Tribes became a formidable live outfit, capable of playing the region's noisiest clubs while capturing audiences' attention and interest. The band's debut single, "Night Future," was issued in 2018 on Hernandez's own Danger Lips Group through SS9. It drew rave reviews from the Texas rock press and positive notice from established Mexican mariachi media outlets. 
Tribes spent the remainder of 2018 touring around the region and honing their energetic live show; they wowed out-of-town audiences at 2019's SXSW showcase. The group spent the rest of the year writing, recording, and touring. On February 7, 2020, the band released three digital singles: the bracing "Passengers" (b/w "Tu Falta de Querer"), which is a paean for persecuted immigrants and their children as they try to cross the U.S. border, the lushly romantic "Blazing Hearts" b/w "El Cascabel," and "Corazón Fugaz," an A-side-only single that Tribes performed live on the Univision Miami television show Despierta America. In June of 2020, TRIBES signed with Amuxe Publishing (formerly Another Victory Inc.) for their song licensing placements. As of 2023, the group is actively performing nationally and releasing their debut album,  first single called, "Mujeres De La Luz" on September 16th 2023. 
TRIBES Electronic 2020 Press Kit 
TRIBES is:  
Gisselle Lopez - Vocals
Mike Hernandez - Guitarron / Nate Sansom - Vihuela / Joe Madrid - Guitar
Cindy Cabada - Violin / Vanessa Cedillos - Violin / Eddie Garcia - Violin / Armando Sandoval - Violin
  Matt Sanchez - Trumpet / Frank Juarez - Trumpet
Steve Oropeza - Drums